1. Foto uploaden

2. Formaat kiezen

3. Plexiglas foto bestellen

---
---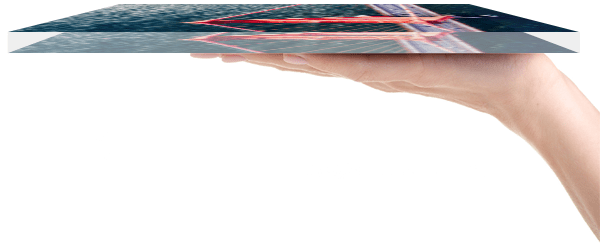 Foto op plexiglas met gepolijste randen
Plexiglas met gepolijste randen maakt indruk. Je kunt namelijk door het 8 mm dikke plexiglas heen kijken.
---
Verzendklaar:
donderdag, 20 jan 2022
---
Foto op plexiglas in twee uitvoeringen
Plexiglas foto is er met een glasdikte van 3 of 8 mm. De 8 mm premium uitvoering maakt indruk met de gepolijste randen. Zo ontstaat een fascinerend 3D effect.
---
---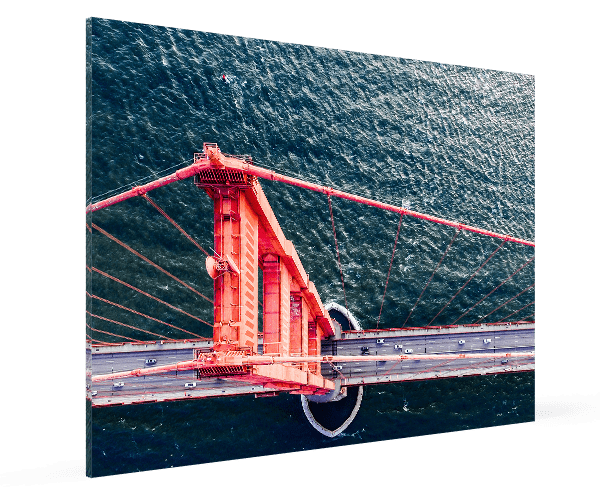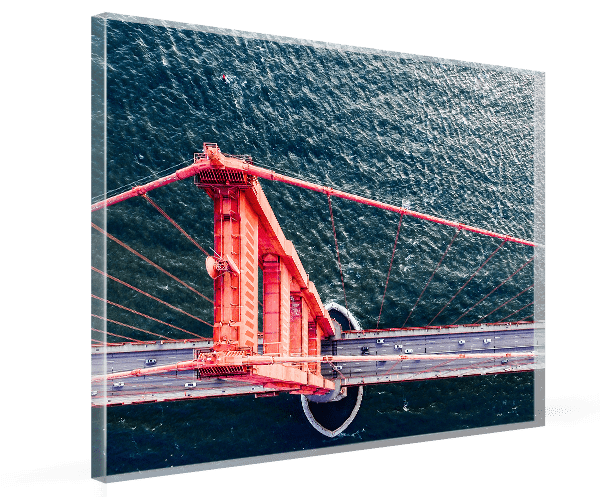 Veelgestelde vragen
Wat is plexiglas?

Plexiglas is een technisch glas. Het werd uitgevonden in 1928 en wordt wereldwijd gebruikt. Plexiglas is ook wel bekend onder de naam acrylglas, acrylaat of perspex. Dit zijn slechts verschillende namen voor hetzelfde product. Het wordt gebruikt in bijvoorbeeld de voertuig- en vliegtuigbouw, halfgeleiders, horloges en de groot formaat fotografie.

Wat onderscheidt plexiglas van mineraalglas?

De verschillen tussen plexiglas en normaal vensterglas (mineraalglas) zijn groot: plexiglas is sterker, weegt minder en laat meer licht door. Daarom wordt het gebruikt daar waar een hoge mate van precisie noodzakelijk is.

Hoe kun je een foto op plexiglas ophangen?

Er zijn verschillende manieren om plexiglas aan de muur te bevestigen: zelfklevende ophangsystemen zoals COUPLE geschikt voor kleine en middelgrote formaten. Ze laten het plexiglas "vrij zweven". Voor zeer zware foto's op plexiglas (> 60x40 cm in de 8 mm uitvoering) adviseren wij het ophangsysteem STEEL of HARRY voor een stabiele montage in de wand.

Meer over plexiglas foto's ophangen.

Wat is beter: plexiglas of aluminium?

Aluminium en plexiglas zijn beide aantrekkelijke materialen om van een foto iets bijzonders te maken. Acrylglas maakt van de foto een design object in moderne woningen. Aluminium maakt indruk met zijn precieze beeldweergave en wordt vaak gebruikt voor fototentoonstellingen.

De gedetailleerde vergelijking: aluminium of plexiglas?

Hoe kun je een foto op plexiglas schoonmaken?

Plexiglas foto's kunnen eenvoudig worden gereinigd met een stofdoek of plumeau. Als er vuil op het oppervlak komt, kan dit worden verwijderd met een neutraal schoonmaakmiddel en een katoenen doek.

Meer over het schoonmaken van plexiglas foto's.

Welke resolutie heeft een foto nodig voor drukken op plexiglas?

Plexiglas is een uitstekend printmedium en kan met hoge resoluties worden bedrukt. Hoe hoger de bestandsresolutie, hoe beter. Een vuistregel: de resolutie moet ten minste 120 DPI zijn.

Bekijk de minimale resoluties voor populaire formaten:

| Gewenst formaat in cm | Minimale resolutie in pixel (megapixel) |
| --- | --- |
| 40 x 30 cm | 1.920 x 1.440 px (2,8) |
| 60 x 40 cm | 2.880 x 1.920 px (5,5) |
| 90 x 60 cm | 4.320 x 2.880 px (12,0) |
| 120 x 80 cm | 5.760 x 3.840 px (22,1) |

Meer over de berekenen van de resolutie voor het drukken op plexiglas

.

Kun je een plexiglas foto in de keuken ophangen?

Ja, zeker! Sinds enkele jaren is het zelfs een trend om een foto op plexiglas te gebruiken als vervanging voor de tegelwand in de keuken. Zo ontstaan veel nieuwe mogelijkheden bij het ontwerpen van jouw persoonlijke keuken. Maar voorzichtig: plexiglas mag niet direct aan de kookplaat worden bevestigd. Hoge temperaturen kunnen het plexiglas namelijk vervormen.

Kun je een foto op plexiglas in de badkamer ophangen?

Ja! Dat gaat perfect. Het hoogglans plexiglas past goed in vochtige ruimtes of wellnessruimtes. De foto op plexiglas wordt daar vaak gebruikt als een gedeeltelijk doorschijnende ruimteverdeler. Maar let op: de plexiglas print mag niet worden gebruikt in natte ruimtes waar het glas steeds in contact komt met zeep.
---
---
Een stralend idee:
foto op plexiglas
Het glanzende oppervlak maakt indruk. Tegelijkertijd beschermt het glas de schitterende kleuren.
---
Verzendklaar:
donderdag, 20 jan 2022
---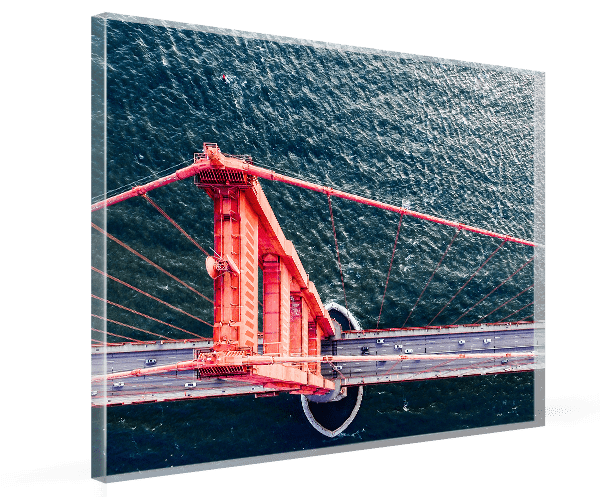 ---
Ophangsystemen
COUPLE (Tip)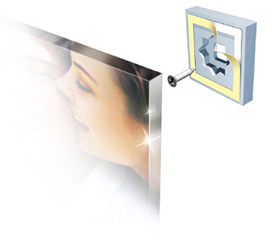 Het systeem Couple wordt achter het schilderij geplakt voor een zwevend effect.
tot 6 kg (120 x 90 cm)
afstand van de wand 10 mm
zwevend effect
HARRY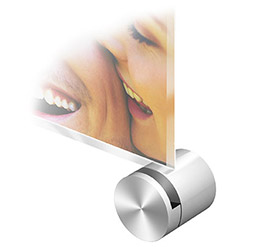 De roestvrijstalen ophanging HARRY wordt bevestigd zonder in het beeldmotief te boren.
geschikt voor alle formaten
diameter en afstand van de wand 15 mm
bevestiging van edelstaal
STEEL 20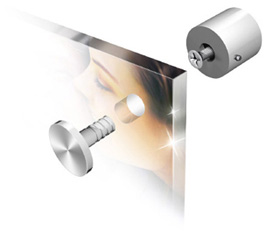 Systeem is een betrouwbaar alternatief voor fotoproducten met een zwaarder gewicht.
geschikt voor alle formaten
diameter en afstand van de wand 20 mm
bevestiging van edelstaal
---
Meer over de ophangsystemen.
---
De foto op plexiglas
Stralende kleuren, bijzonder en ontzettend lang houdbaar, dat is de foto op plexiglas. Vooral het gladde, glanzende oppervlak geeft de afbeelding een mooie moderne uitstraling.
De foto op plexiglas wordt een visuele ervaring, niet in de laatste plaats door de fantastische kleurweergave, de onevenaarbare diepte en de hoge contrasten. In de afgelopen jaren is niet alleen de kwaliteit van het glas aanzienlijk verbeterd. Vandaag de dag biedt het drukken op glas ook volledig nieuwe mogelijkheden op het gebied van ophanging, beeldkeuze en creatieve effecten.
Foto op plexiglas – revolutie in directdruk
Misschien heb je al eens een foto op plexiglas besteld bij een andere fabrikant en vraag je je af waarom dit eigenlijk "afdrukken op plexiglas" wordt genoemd. In de meeste gevallen wordt de foto namelijk helemaal niet op plexiglas gedrukt.
Ondanks de vele nieuwe mogelijkheden die de moderne druktechnieken bieden, kiezen veel leveranciers ervoor om gewoon een bedrukte poster op de achterkant van het plexiglas te plakken. Dit is natuurlijk de makkelijkste weg, maar de foto op glas plakken heeft ook een overduidelijk nadeel. Het gelijmde papier kan extreem snel van het plexiglas loslaten.
Een risico dat steeds toeneemt met de tijd. Dit is niet alleen vervelend – het is ook simpelweg onnodig! Er bestaat namelijk directdruk. Deze moderne en hoogwaardige techniek wordt graag gebruikt voor grote formaten.
Hierbij wordt de foto direct op de achterkant van de plexiglasplaat gedrukt en vervolgens met een witte opdruk verzegeld. Deze slimme technologie maakt je foto bijzonder duurzaam. Daarnaast schept het mogelijkheden wat betreft extra effecten, zoals bijvoorbeeld verlichting.
Zo wordt jouw foto op plexiglas zeker een succes
In principe is de plexiglas foto geschikt voor alle denkbare afbeeldingen. Er zijn geen grenzen aan je verbeelding. Dus neem de tijd voor dit creatieve proces.
Misschien weet je al zeker dat je een foto op plexiglas wilt laten afdrukken, maar weet je nog niet precies welke foto je zult kiezen, hoe een plexiglas foto er in verschillende ruimtes uitziet of waar je verder op moet letten.
Geen zorgen! Vanwege de stevige materiaalsamenstelling is plexiglas ontzettend makkelijk in het onderhoud. In tegenstelling tot bijvoorbeeld een foto op canvas, kun je de foto op plexiglas eenvoudig reinigen met een schoonmaakdoek. Dankzij de directdruk is het zelfs mogelijk op jouw plexiglas foto's in de badkamer of buitenshuis te gebruiken, zonder dat het materiaal of de beeldkwaliteit wordt aangetast. Maar let op, hoe hoger de resolutie, hoe beter het resultaat. Het beste gebruik je een beeldbestand van 300 DPI of hoger. Dan kan er niets misgaan!
Foto op plexiglas – bijzondere uitvoeringen
Plexiglas foto's zijn er in veel verschillende uitvoeringen. Eén variant is misschien toch het meest overtuigend. Wat betreft de glasdikte kun je kiezen tussen 3 mm en 8 mm. Vooral de 8 mm uitvoering levert prachtige resultaten op.
Perfect is de combinatie met de diamantgeslepen rand, die jouw foto een buitengewone diepte geeft. Op de juiste plek opgehangen heeft de afbeelding het effect van een raam met daarin een eigen schouwspel.
Je kunt ook een spannend effect creëren door de foto zo te plaatsen dat het licht wordt gebroken in de gepolijste randen. Indrukwekkende stadsgezichten als plexiglas panorama, kleurrijke bloemen en dynamische afbeeldingen krijgen een stralende nieuwe look.
Onze tip: wij bieden de foto achter plexiglas aan in meer dan 50 verschillende formaten. Van een handzame 40x30 cm tot een indrukwekkende 160x120 cm. Bij de keuze van het formaat moet je zeker rekening houden met de afbeelding zelf. Voor fascinerende landschappen en stadsgezichten geldt bijvoorbeeld: hoe groter de afbeelding, hoe indrukwekkender het effect!
---
Panorama op plexiglas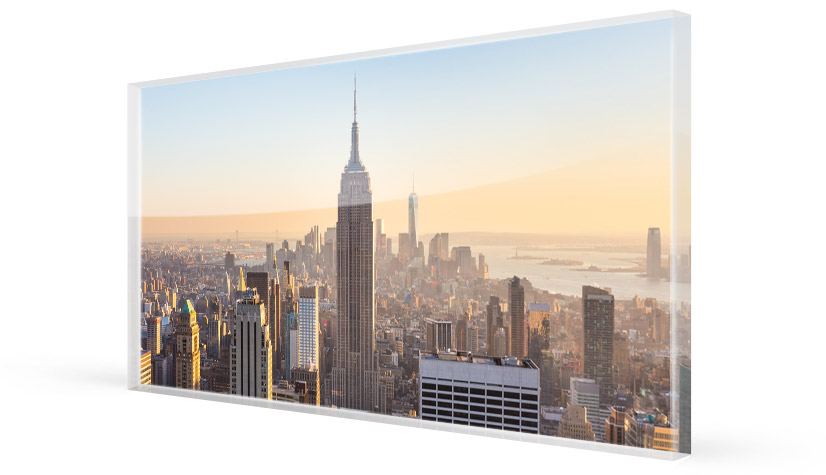 ---
Grote panoramafoto's maken indruk door hun formaat en oppervlak.
Bestel jouw eigen plexiglas in panorama formaat.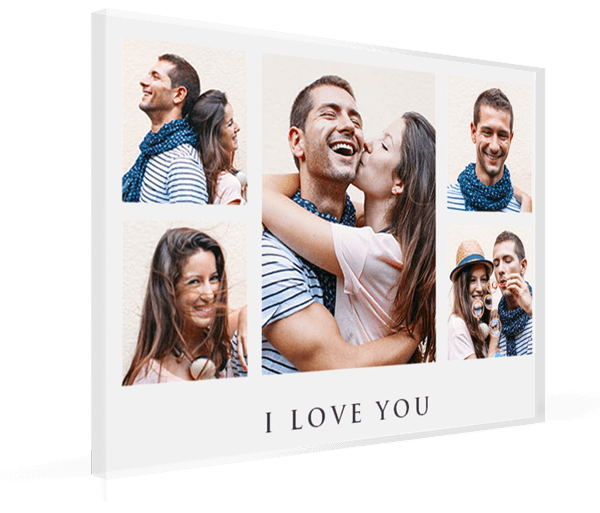 Meer dan 250 collage voorbeelden
Gebruik tot wel 100 foto's voor jouw collage op plexiglas.
Een populair fotocadeau, eenvoudig te maken.
---
Verzendklaar:
donderdag, 20 jan 2022
---
Fotocollage maken
Mozaïek van 1000 foto's
Ontwerp je eigen mozaïek met tot wel 1000 foto's.
Gedrukt op plexiglas is een fotomozaïek een bijzonder cadeau idee.
---
Verzendklaar:
donderdag, 20 jan 2022
---
Fotomozaïek maken
---
Populaire formaten
Jouw foto op plexiglas kun je ontvangen in de diktes: 3 mm / 8 mm
Formaat
Adviesprijs
Prijs
Formaat selecteren

XS

20 x 20 cm

39,00 €

19,00 €

49,00 €

kiezen

XS

30 x 20 cm

20,00 €

60,00 €

kiezen

XS

40 x 30 cm

30,00 €

70,00 €

kiezen

XS

40 x 40 cm

35,00 €

95,00 €

kiezen

XS

45 x 30 cm

35,00 €

95,00 €

kiezen

S

60 x 40 cm

45,00 €

115,00 €

kiezen

S

60 x 45 cm

50,00 €

120,00 €

kiezen

S

60 x 60 cm

99,00 €

60,00 €

140,00 €

kiezen

M

80 x 60 cm

109,00 €

65,00 €

165,00 €

kiezen

M

80 x 80 cm

80,00 €

170,00 €

kiezen

M

90 x 60 cm

119,00 €

70,00 €

170,00 €

kiezen

L

100 x 100 cm

100,00 €

250,00 €

kiezen

L

120 x 80 cm

95,00 €

245,00 €

kiezen

L

120 x 90 cm

100,00 €

250,00 €

kiezen
---
Alle formaten en prijzen
---
---
Ervaringen van klanten
Ingrid De Roode
Beoordeeld in Apeldoorn
Product: Plexiglas Geverifieerde aankoop
Mooie foto met mooie heldere kleuren. Precies uitgevoerd zoals de foto oorspronkelijk is
Peggy De Jong
Beoordeeld in Oldenzaal
Product: Plexiglas Geverifieerde aankoop
Hele mooie kleuren en super scherp afgedrukt.
---
Marike Schilderman
Beoordeeld in Leiden
Product: Plexiglas Geverifieerde aankoop
Ik heb een foto laten drukken op acrylglas en een deel van mijn afbeelding was wit. Hierdoor was het (blinde) ophangsysteem door de foto heen zichtbaar. Op de website staat dat dit ophangsysteem niet altijd werkt met lichte afbeeldingen, maar dat had ik niet gelezen. Gelukkig heeft acrylglas-foto.nl dit heel netjes voor mij opgelost! Heel erg blij mee! Dank voor de goede service.
Lucy Engelsman-Feikens
Beoordeeld in Oude Pekela
Product: Plexiglas Geverifieerde aankoop
Alles is eigenlijk prima, ik had alleen beter de dikkere variant moeten kopen. Deze vind ik toch te dun achteraf
---
---
---
Dit zou je ook kunnen interesseren