1. Foto uploaden

2. Formaat kiezen

3. Panorama op glas bestellen

---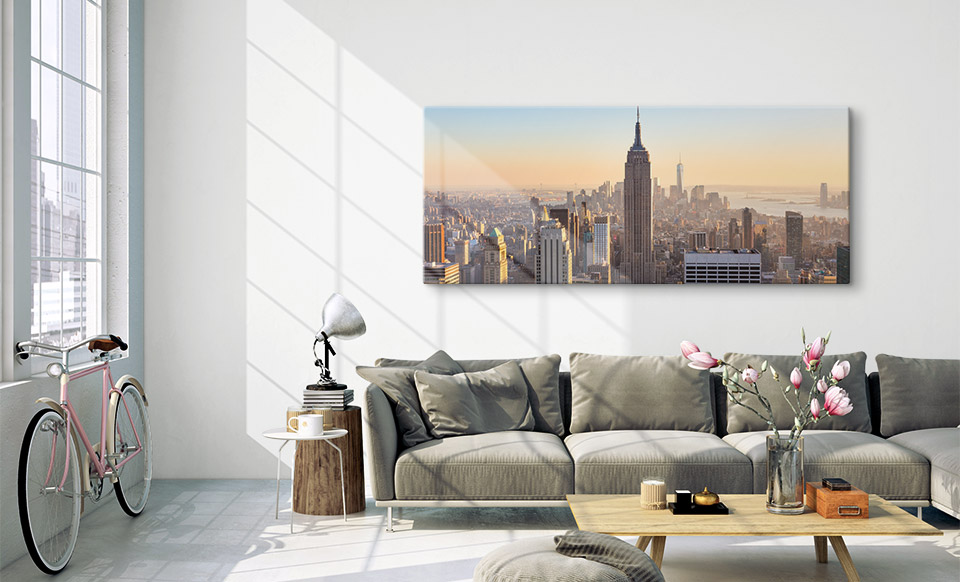 ---
Panorama op plexiglas
Het panoramaformaat is de laatste jaren een grote trend. Niet alleen bij de beeldschermen voor computers en televisie, maar ook als wanddecoratie heeft groot panorama formaat een imposante werking. Met name landschappen of architectuurbeelden komen als panorama foto op plexiglas op indrukwekkende wijze tot hun recht. Het hoogglanzende oppervlak van panorama op plexiglas accentueert architectonische details of grafische elementen. Ook de foto op plexiglas groot formaat maakt deel uit van deze trend.
Tip: het bestandsformaat JPEG is ideaal voor jouw panorama op plexiglas bestelling.
---
Acrylglas panorama - verschillende formaten
Bij ons vind je een grote keuze uit formaten in panorama op plexiglas (=acrylglas) die je gewoon online kunt bestellen. De populairste panorama formaten zijn plexiglas 80 x 40 cm, plexiglas 120 x 90 cm en plexiglas 120 x 60 cm. Bekijk in één oogopslag alle andere plexiglas panorama formaten en prijzen. Voor een plexiglas foto op maat neem je contact op met onze klantenservice.
Let bij het originele bestand van je panorama foto op plexiglas op de noodzakelijke resolutie om het bestand te kunnen afdrukken. Aan de hand van de resolutie resp. het aantal pixels kun je het passende formaat uitkiezen. Hoe hoger de resolutie, des te groter is het formaat dat je voor je panorama foto op plexiglas kunt kiezen en bestellen.
Wist je dit al? We bieden 3 slimme ophangsystemen voor plexiglas aan.
Panorama foto op plexiglas - uitvoeringen & opties
Alle formaten panorama foto op plexiglas zijn in 3 mm en 8 mm dikte verkrijgbaar. Op basis van jouw persoonlijke voorkeur kun je de gewenste dikte van het plexiglas uitkiezen. Vanaf een lengte van 1 meter adviseren we de 8 mm glasdikte voor jouw panorama foto plexiglas.
Wil je een plexiglas panorama foto of toch liever een ander materiaal voor jouw mooiste foto? Dan adviseren we je de foto op plexiglas als panorama en de dibond foto in panoramaformaat.
---
Ervaringen van klanten
Ingrid De Roode
Beoordeeld in Apeldoorn
Product: Plexiglas Geverifieerde aankoop
Mooie foto met mooie heldere kleuren. Precies uitgevoerd zoals de foto oorspronkelijk is
Peggy De Jong
Beoordeeld in Oldenzaal
Product: Plexiglas Geverifieerde aankoop
Hele mooie kleuren en super scherp afgedrukt.
---
Marike Schilderman
Beoordeeld in Leiden
Product: Plexiglas Geverifieerde aankoop
Ik heb een foto laten drukken op acrylglas en een deel van mijn afbeelding was wit. Hierdoor was het (blinde) ophangsysteem door de foto heen zichtbaar. Op de website staat dat dit ophangsysteem niet altijd werkt met lichte afbeeldingen, maar dat had ik niet gelezen. Gelukkig heeft acrylglas-foto.nl dit heel netjes voor mij opgelost! Heel erg blij mee! Dank voor de goede service.
Lucy Engelsman-Feikens
Beoordeeld in Oude Pekela
Product: Plexiglas Geverifieerde aankoop
Alles is eigenlijk prima, ik had alleen beter de dikkere variant moeten kopen. Deze vind ik toch te dun achteraf
---
---
---
Meer informatie
Plexiglas info
Prijzen
Levertijden
Ophangsystemen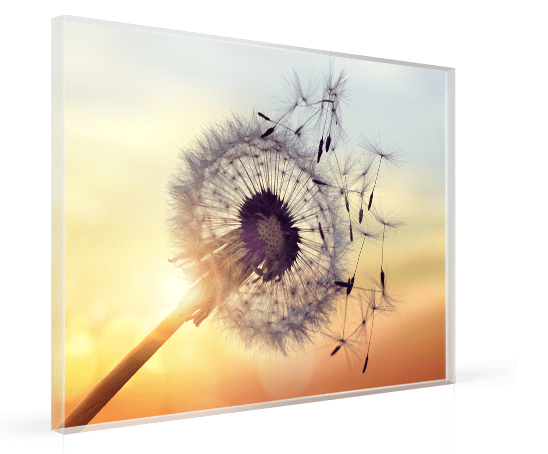 Plexiglas informatie
Hoogglanzend XT-plexiglas
Océ – Canon™ druktechnologie
200 jaar tegen licht bestand
3 of 8 mm glasdikte
8 mm met diamant geslepen randen
Kwaliteit 'Made in Germany'
---
Gedetailleerde informatie
Hoogglanzend plexiglas in de glasdiktes 3 mm en 8 mm verkrijgbaar
Premium variant 8 mm + diamant geslepen randen
Uit 3 ophangsystemen kiezen, ook met zwevend effect
Rechtstreeks afdrukken op plexiglas met de allernieuwste Océ – Canon™ druktechnologie inclusief witte achterkant
Veel plexiglas formaten ook met 24 uurs EXPRESS service leverbaar
Foto op plexiglas ook in extreem grote formaten tot
2 meter verkrijgbaar
Jouw foto op plexiglas kun je ontvangen in de diktes: 3 mm / 8 mm
Panorama
Formaat
Adviesprijs
Prijs
Formaat selecteren

XS

40 x 20 cm

50,00 €

70,00 €

kiezen

XS

60 x 20 cm

50,00 €

90,00 €

kiezen

S

80 x 40 cm

60,00 €

140,00 €

kiezen

S

90 x 30 cm

80,00 €

170,00 €

kiezen

M

90 x 45 cm

110,00 €

240,00 €

kiezen

M

120 x 40 cm

120,00 €

280,00 €

kiezen

M

120 x 60 cm

90,00 €

200,00 €

kiezen

L

150 x 50 cm

170,00 €

420,00 €

kiezen

L

150 x 75 cm

240,00 €

610,00 €

kiezen
Korting op verzendkosten vanaf 2 producten in hetzelfde formaat.
Alle formaten en prijzen.
Prijzen inclusief btw.
Wanneer wordt je foto op plexiglas bezorgd?
Gewenst formaat
Verzenden naar
VANDAAGNu
bestellen

24 uurs*
EXPRESSLevering
gegarandeerd

PRIO**Levering
schatting

STANDAARDLevering
schatting

do
vr
za
zo
ma
di
wo
do
vr
za
20
jan.
21
jan.
22
jan.
23
jan.
24
jan.
25
jan.
26
jan.
27
jan.
28
jan.
29
jan.
Bestel op werkdagen voor 12 uur:
* Gegarandeerde levering de volgende werkdag
** Priority productie en standaard levering
Wij bezorgen met:

---
Verzenden naar
| | Formaat | 24 uurs EXPRESS upgrade | PRIO upgrade | Verzending |
| --- | --- | --- | --- | --- |
| XS | 30 x 20 cm | 58,95 € | 5,95 € | 8,95 € |
| XS | 40 x 30 cm | 58,95 € | 5,95 € | 8,95 € |
| XS | 45 x 30 cm | 58,95 € | 5,95 € | 8,95 € |
| S | 60 x 40 cm | 58,95 € | 7,95 € | 11,95 € |
| S | 60 x 45 cm | 58,95 € | 7,95 € | 11,95 € |
| S | 75 x 50 cm | 58,95 € | 7,95 € | 11,95 € |
| M | 80 x 60 cm | 58,95 € | 7,95 € | 11,95 € |
| M | 90 x 60 cm | 89,95 € | 9,95 € | 14,95 € |
| M | 100 x 75 cm | 89,95 € | 9,95 € | 14,95 € |
| M | 105 x 70 cm | 89,95 € | 12,95 € | 19,95 € |
| L | 120 x 80 cm | 89,95 € | 12,95 € | 19,95 € |
| L | 120 x 90 cm | 89,95 € | 12,95 € | 19,95 € |
Prijzen inclusief btw.
Korting op verzendkosten vanaf 2 producten in hetzelfde formaat.
Alle verzendkosten en levertijden
Couple
Harry
Steel 20
Afbeelding
Bestanddelen
4-delige set bestaand uit
2 hangers en 2 afstandshouders
4-delige set incl. schroeven
(diameter 15 mm)
4-delige set incl. schroeven
(diameter 20 mm)
Draagkracht
Draagt tot 6 kg
(ca. tot 120 x 90 cm)
Geschikt voor alle formaten
Geschikt voor alle formaten
Stijl
Zwevend effect
Hoogwaardige bevestiging van edelstaal
Hoogwaardige bevestiging van edelstaal
(AISI304)
Geschikt voor
aluminium
Overig
Incl. montagehandleiding
Incl. montagehandleiding
Incl. montagehandleiding. Prijs excl. boorgaten
Prijzen
€ 12,95
€ 28,80
€ 18,95
---
---
Dit zou je ook kunnen interesseren